We are all happier to see a bit more light in the morning and slightly longer days in the evenings!
This month we have a focus on Black History Month in our classes.  Starting with a Zoom Q and A with Willie O'Ree- the first black NHL player we are highlighting stories of those Black Canadians who have impacted our country in the past and the present.  Check out the bulletin board across from the library beside the office!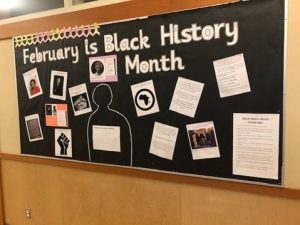 While we cannot run formal sports programs at this time due to COVID-19, Learning Groups are signing up for 1h timeslots afterschool for drop in sports.  It is great to see our students enjoying some exercise in an organized supervised environment.
Other highlights of the month include Spartan Wear, Pink Shirt Day, Family Day and the start of Student Forum- more information to come!
As always, we appreciate the continued support of our Central Community around the safety protocols and Daily Health Check.  Thank you.